Wine Circle Summer Lunch
Mannings Heath Golf Club and Wine Estate
Tuesday 21st August 2018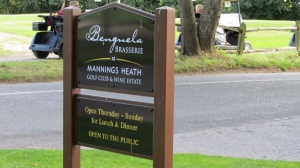 Mannings Heath Golf Club and Wine Estate was
a perfect destination as it combined plenty of
……driving in golf buggies
……..drinking lots of wine.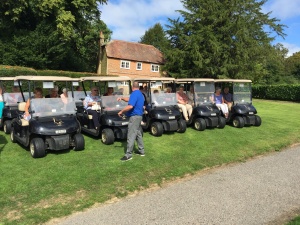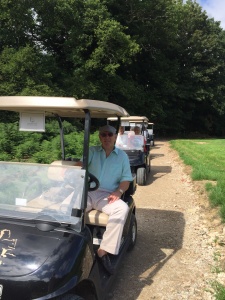 The buggies helped us to reach the vines which will be used from 2020
to make very special wines from South African stock.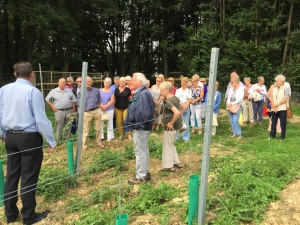 We had a short talk about the vines and the background to the Estate.
We then snaked  past the bemused golfers in our lines of buggies
to see a dilapidated building that will be rebuilt into the winery production plant next year,
if planning permission can be granted.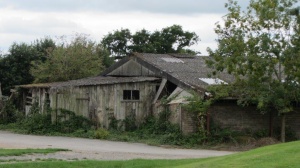 We then drove the buggies back to the main building where lunch was waiting.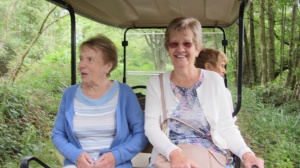 But first we needed to taste 6 different wines (white, rose and red) to decide which we preferred.
These were paired with the correct cheese to go with them.
We were taught how to choose a wine properly by look, smell and taste.
By now everyone was feeling pretty merry so lunch was even more enjoyable,
especially as it was accompanied by another of their award winning South African wines.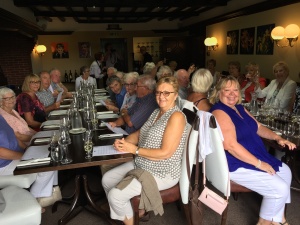 At the end, several of the members ordered bottles (or in some cases crates) to take home.
The return journey seemed to fly by – not sure if it was all the laughter or the need to sleep off the imbibing.