Short Mat Bowls Gallery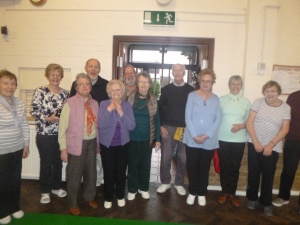 Return to the Short Mat Bowls Page
---
Mickey Finn Singles Tournament
17th July 2019
10 Players competed for the Trophy, the event started at 10am with three mats out, 2 players per mat with another scoring.
Hugh Passingham, Bowls Organiser arranged the order of play so did not compete himself.
The winner was Joan Passingham who will hold the trophy for 1 year and Audrey Payne came second winning the Mickey Finn Cat. Third place was Marion Smith
The morning finished at around 12.30pm and everyone enjoyed themselves. 
---
June 2019 and the A team win the Area 5 Plus Bowls competition for the second year!
---
October 2018, HSMBC Presentation Dinner
Held at Hartley Country Club
Everyone had a very enjoyable evening and our thanks go to the Country Club for the lovely food.
---
---
February 2018 – Practice Session
click on any photo to enlarge
---
Return to the Short Mat Bowls Page